Introduction of Cocoa Butter Industrial Processing Plant
The processing of cocoa beans into finished cocoa powder or semi-finished goods, such as cocoa liquor,cocoa nib,cocoa cake is a crucial factor in achieving the different taste options and qualities. To be a Chocolate maker or a Chocolatier is up to the cocoa products quality.Base on this factor,Rephale has been developing high-performing technologies to achieve this allowing the flavoring agents that are vital for a delicious chocolate taste to be accentuated in a selective manner.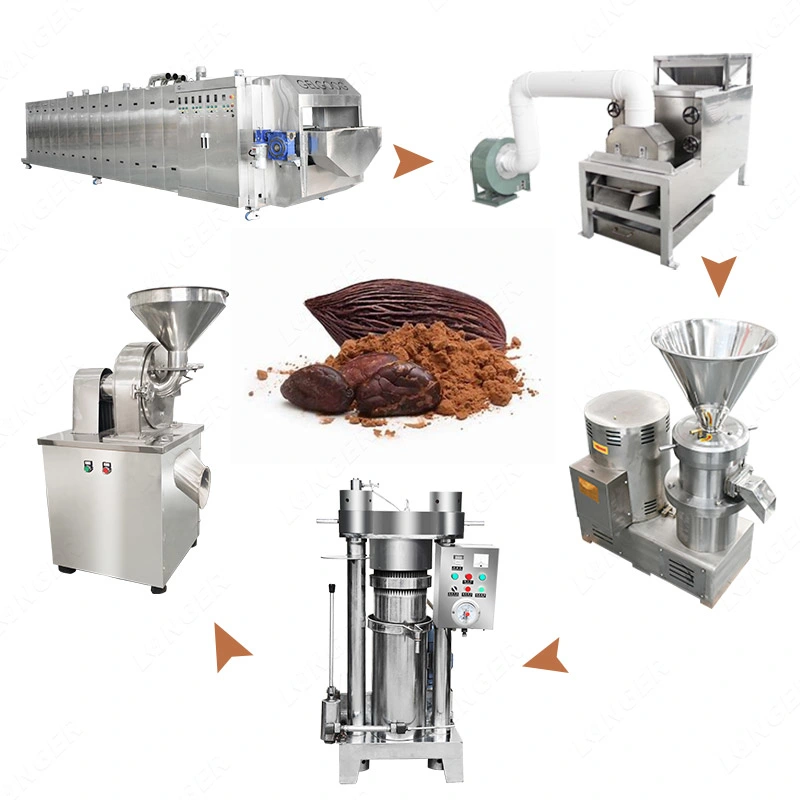 Cocoa Butter Processing Line Processing Flow Chart
1.Lifting--2. Roasting--3. Lifting--4. Peeling--5. Picking Line--6. Lifting--7. Feeding Hopper--8. Cocoa Liquor Grinding--9. Storage Tank--10. Cocoa Butter Pressing--11. Lifting--12. Cocoa Cake Crushing--13. Lifting--14. Cocoa Powder Grinding--15. Lifting--16. Packing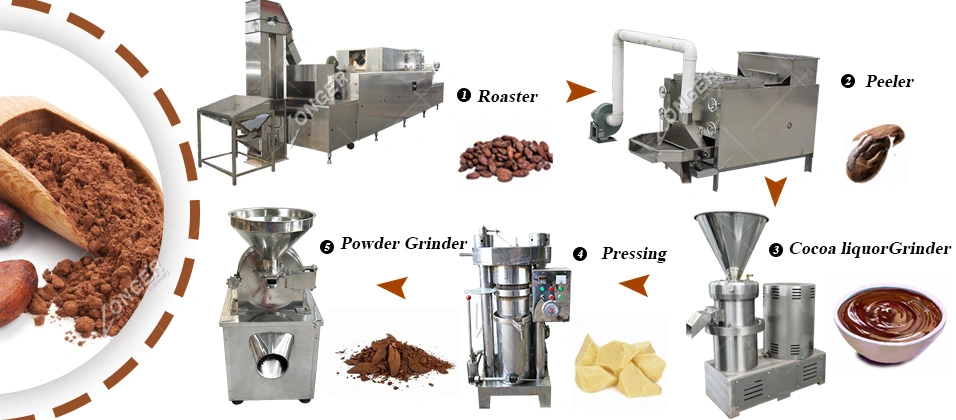 1.Cocoa bean roasting machine is mainly used for kernels, peanuts, chestnuts, walnuts, almonds, eat beans, beans, melon seeds and other granular material of the baking or drying,with high quality, easy to use, save energy, durable and health.
2.This cocoa bean peeling machine is a special equipment for processing cocoa bean and peanut. it has a high degree of automation, peeling rate is high, low noise and no pollution etc. this machine is the vacuum cleaner can suck cocoa bean skin and peanut red coat, is the ideal choice for the food processing industry.
3.Grinding based in part on the characteristics of the material for special processing, can adjust the thickness of the grinding head design, more able to adapt to the customer's requirements, water circulation pipe diameter increased, increasing the water flow, greatly reducing the temperature of the material, so that the product tastes closer to nature.
Parameters Of Cocoa Butter Tempering Machine
| | | |
| --- | --- | --- |
| No | Name | Capacity |
| 1 | Cocoa Roasting Machine | 100-300kg/h |
| 2 | Peeling machine | 300-1000kg/h |
| 3 | Cocoa Paste Grinding Machine | 100-500kg/h |
| 4 | Cocoa Oil Press Machine | 10-20kg/time/8Min |
| 5 | Cocoa Powder crushing machine | 100-400kg/h |